Short description
Tank Arena is one of those few games that you can play with your friend on one computer.
Game modes are: 1) Deathmatch, 2) Race, 3) Capture the flag, 4) Cooperative play, and 5) there are numerous missions to play when your friends are gone.
Select from many different tanks, helicopters or airplanes.
Tank arena is freeware.
Screen shots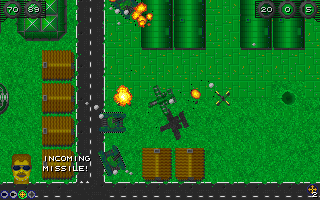 Features
A total of 23 tanks/choppers/planes.
You can control seven of them, the remaining ones are computer controlled.
Switch to any tank any time in one player mode to make the game more tactical!
12 different weapons (defensive and offensive).
Four totally different worlds.
Night missions in each of them.
The complete map editor.
Joystick support (up to 2 joysticks).
Requirements
The game will run under DOS, Win95, Win98, WinNT, Win2000 and WinXP (for some systems only without sounds or in 320x200). For Vista or higher you will need a DOS emulator.
Download
To download the full version click here: tank.exe (3.2 Mb). A zipped version without installer exists too (7.3 Mb)
Download extra levels (version September 3rd 2002). Unzip to the "Maps" folder and play!
Don't forget to send us the levels you created, we'll put them online!
Map tutorial
Click here to view the map tutorial.
Original source code is located here.
Credits
Programming: Jorrit Rouwé.
Graphics: Dennis Medema.
Music: Janne Leinonen.